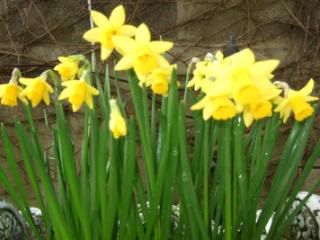 Spring is here! Yesterday it was gorgeous in Connecticut. I have been reading other parts of the country were getting the nasty weather, SNOW! Here, the sun was out and birds were singing. It was just so beautiful. Our landscaper came to laid now the flower beds. I went to the mall to meet up with a friend and we went window shopping. Of course, we went to Micheal's and I got a 10X13 frame for $5. I picked up a few threads that I was running low . In general, my friend and I had a great day!



Since it was the first day of Spring, I was able to open my First Day of Spring exchange package I had signed up for in the ILCSing group. The exchange was from Karin H from Las Vegas. She send me:

Trail Creek Farm Easter, The Carrot, Lucky, Spring
The Sweetheart Tree Just Ducky Fob Designs by Jodi Evans Kitty Love
Annalee Waite Designs Flower and Bee Kit
A package of each of mini scented pens and highlighters
A beautiful natural card

All of the patterns are so pretty. I cant wait to use them. I had to open all the pens and highlighters to smell them, lol. Thank you so much Karin!

In the stitching front, I do not have a finish but I have been stitching on my ABC Lessons and He's A Flake. As you can tell, I am changing some colors on the flake pattern and added some metallic gold to the bow. It is going to look cute when I am done.
Little House Needleworks He's a Flake wip
I hope everyone has a great weekend and try to enjoy the weather, if you can.